Jeremy Olander at CRSSD, Spring 2016
Jeremy Olander presents Vivrant – An Introduction
The Vivrant Music Tour

'Taiga' EP [Vivrant] On Spotify
'Taiga' EP [Vivrant] Out Now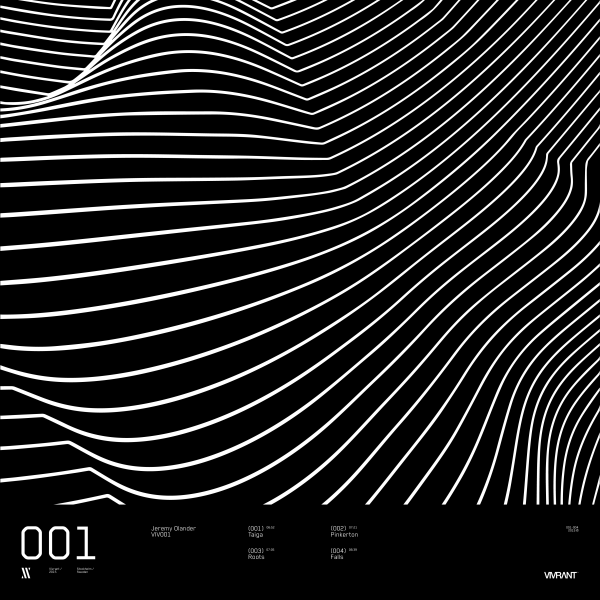 Already supported by a who's who of electronic music's finest in Technasia, Pete Tong, Sasha, Pirupa, Mark Knight, Guy Mantzur, Robert Babicz, Nick Warren, Eelke Kleijn, Dosem, Quivver, Nic Fanciulli and Lane 8 just to to name a few, the Taiga EP is now out on Beatport for your listening pleasure.
Taiga EP [Vivrant] Announced
With the anticipated unveiling of the inaugural release on his Vivrant imprint entitled the 'Taiga' EP, Jeremy gives the public a sneak peek into his sonic treasure chest. Filled to the brim with a seemingly infinite number of unreleased gems, his music has at last found a place to call home.
Accompanied by a graphical profile and artwork created in collaboration with multi-award winning creative studio Rebels Studios, the EP conceptually resembles a mini-album. Made up of a total of four tracks with the first and last offerings, 'Taiga' and 'Falls', taking on the roles of proverbial set opener and closer. Played for the first time in Jeremy's Group Therapy Radio guest mix, 'Taiga' is dark, thumping and hypnotic, while 'Falls', a new never before heard creation, is soft, dreamy and uplifting.
Second and third on the EP is 'Pinkerton' and 'Roots'. While vastly different, they have a common denominator in being sophisticated, sure-fire peak time weapons. 'Roots' is energetic and soaring, while 'Pinkerton', made famous by the Olander and Prydz B2B BBC Radio 1 Essential Mix from earlier this year, has an infectious, trembling trademark Olander lead and a sawtooth bass-line your ancestors will feel.
In a time when the artform of curating an EP is on life support in favour of the more chart friendly single format, the 'Taiga' EP restores faith. Unlike anything you're likely to hear from anyone else, it paints a positive picture of the future of innovative dance music.
1. Taiga (Original Mix)
2. Pinkerton (Original Mix)
3. Roots (Original Mix)
4. Falls (Original Mix)
The 'Taiga' EP is out November 30 exclusively on Beatport.
Art by Rebels Studios.
Hanover EP [Suara]
Following up on his remix of Dosem's 'Runnerpark', Jeremy's anticipated proper Suara debut in the 'Hanover' EP has soared up the charts. After only one day, it made it to no. 1 on Beatport's Techno Top 100 Releases chart and no. 2 overall.
Gaining support from venerable acts in the likes of Agoria, Nicole Moudaber, Adam Beyer, Coyu, Gregor Tresher, Oliver Huntemann, dubspeeka, Kaiserdisco and many more, Olander is gearing up for his impending launch of his own imprint in a major way.
Mixmag Lab LA
Dosem – Runnerpark (Jeremy Olander Remix) [Suara]
Supported by Eric Prydz, Booka Shade, Paco Osuna, John Digweed, Hot Since 82, Adam Beyer, Monika Kruse, Popof, Alan Fitzpatrick, Joseph Capriati and more, the City Cuts Remixes Part 2 EP released by Spanish power house label Suara is now available on Beatport.
Joined on the EP by Mathias Kaden & Daniel Stefanik, Henry Sayz & Marc Marzenit and AFFKT, Jeremy has taken the already massive "Runnerpark" original and revamped into a cathartic, true progressive house record perfectly suited for those hot summer nights.
North American Tour S15
Friday, 10 July – Rumor, Philadelphia, PA
Tickets: http://tinyurl.com/lem2n4o
Saturday, 11 July – Beta, Denver, CO
Tickets: http://tinyurl.com/kkpoj5t
Thursday, 16 July – Ultrabar, Washington D.C.
Tickets: http://tinyurl.com/k9krdky
Friday, 17 July – Bijou, Boston, MA
Tickets: http://tinyurl.com/q3pgzcq
Saturday, 18 July – Kingdom, Austin, TX
Tickets: http://tinyurl.com/lnyrfg7
Sunday, 19 July – Output, NYC, NY
Tickets: http://tinyurl.com/ng2maps
Friday, 24 July – Spybar, Chicago, Ill
Tickets: http://tinyurl.com/p5p63ty
Saturday, 25 July – Audio, San Francisco, CA
Tickets: http://tinyurl.com/ozt7oea
Friday, 31 July – Mixmag Lab, Los Angeles, CA
Tickets: Invite Only
Saturday, 1 August – Exchange, Los Angeles, CA
Tickets: http://tinyurl.com/nvbc9pf
Saturday, 8 August – CODA, Toronto, ON
Tickets: http://tinyurl.com/mmmnlq6
 Jeremy Olander – Mustela
Jeremy Olander presents lo-fi Aftereffects
Jeremy Olander – Goliath EP [microCastle]
Following up on his 'Jackie' EP on Pryda Recordings from last year, Jeremy Olander is back with the three track 'Goliath' EP on celebrated Canadian label microCastle.
Becoming one of Jeremy's most sought after creations since its appearance on his and Prydz's BBC Radio 1 Essential Mix, lead track 'Goliath' is a fusion of new school progressive and contemporary techno. Its cavernous groove goes down as one of this year's biggest bass line hooks, underpinning analogue-style melodies and cutting edge sound design.
The EP's second and third offerings, 'Groover' and 'Bayhert', find Jeremy crafting two of the most infectious productions of his career. The former features scintillating rhythms, waves of electronics and haunting vocal elements, the latter presents a tougher, darker and more techno inspired sensibility.
The remix of 'Goliath' is provided by microCastle mainstay Marc Marzenit, fresh from the release of his 'To Love Until We Say Goodbye' album on Henry Saiz's Natura Sonoris, along with projects for Bedrock and Tronic, all of which have been met with both critical and commercial success. He's stripped the original right down and reinvented the main elements into his own stadium sized techno behemoth; the result is one of Marc's most dynamic remixes to date.